Have the clouds parted yet, offering some inflation relief for Americans? The answer is simply not yet… With the ring of a recession in the air, things could possibly get worse for the market before they get better for 2022. However, this leaves room for portfolio improvement!
The stock market continues its volatile performance into July as investors are keeping an eye on a handful of events that are currently up in the air, and no answers are in sight. Early on this month, The Nasdaq gained 0.12% to settle at 11,635.31, while the S&P 500 dipped 0.08% to 3,899.38. The bear market territory is here as the current trends of June look to be reflective for the rest of July. 
June stock market performance
The stock market was rocky in June, so it's safe to say that investors can expect further losses. Remember, the key is not to react emotionally, but to work with an experienced financial advisor to make wise investment moves (if necessary).
The Dow Jones Industrial Average closed at 24,839.26 on the last day of June 2022. The NASDAQ Composite Index gained 1.3% to close at 7,906.26 and the S&P 500 gained 2.6% to close at 2,689.04. In June:
The S&P 500 was down 8.39%, providing a YTD return of -20.58%. 

The Dow Jones lost 6.71% and was down 15.31% YTD. 

The S&P MidCap 400 decreased 9.78% for the month, with a YTD return of -20.16%.
July stock market predictions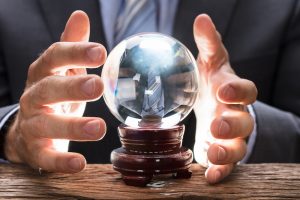 Let us be clear, even though investors wish they had a crystal ball to make accurate predictions, they don't—and we don't either. We have experienced some worst-case scenarios as it relates to monetary policy and inflation. The major stock indexes aren't the only ones that have suffered. 
Small caps have been hit hard, with the Innovator IBD 50 ETF (FFTY), a key gauge for growth stocks, has plummeted 41% and the Russell 2000 sinking 25%.
Inflation update
The unleashing of interest rate hikes to tame runaway inflation (which can induce a recession) is a common fear among investors. Yet, the current spiraling inflation looks to be relatively short-lived as compared to scenarios 40 years ago. With a more solid understanding of what's happening economically, you can choose the best investments for yourself, your family, and your business.
What's great is that investors nowadays are more informed with Fed minutes, post-meeting news conferences, and senior bank officials speaking to the media. There is no guessing involved, which makes predicting and planning more logical with the guided help of a financial advisor in Flagstaff and Phoenix. 
Read: How Will Inflation Affect My Retirement?
How to invest in a bear market.
With the risks hanging over the stock market forecast over the next six months, you should consider discussing your risk tolerance and time horizon with your financial to figure out what works best for you. It's time to be extremely selective about where you go.
A bear market offers an opportunity to discuss rebalancing with your financial advisor. 
Interest rate hikes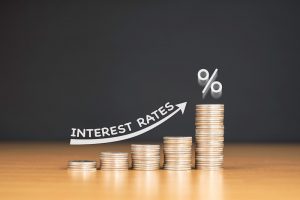 While increases like the recent interest rate hikes may seem small, they can make a significant impact on your investments or savings over time as they add up. To help you understand how these moves could affect your portfolio going forward, here is what we expect from other upcoming rate hikes:
Jerome Powell, Federal Reserve Chairman, highlighted the newfound resolve to tackle inflation with a 75 basis point interest rate increase followed by an equally large hike to follow. Yes, front-loading hikes are what the market is pricing in. Powell knows this could cause "some pain" as the goal is to create a cyclical slowing in economic growth while creating only a brief recession (if any). 
The unemployment rate may rise a bit, but economists are worried about a more severe recession to follow. This is exactly why it pays to hire a financial ally who can help you diversify your investment portfolio that accounts for inflation and rising interest rates.
Diversify your portfolio 
A diversified portfolio is one of the best defenses against stock market volatility. A well-diversified portfolio allows you to make money from many different types of investments and reduces your exposure to any one particular investment.
Ongoing global tensions
The Russia-Ukraine conflict is not resolved, leading to boosted energy and fertilizer stocks. The ongoing uncertainty has caused other stocks to plummet amid the rising uncertainty. As the West tries to cut off Russian gas and oil imports, further gains are possible even though they have outperformed in 2022. 
China's lockdown and supply chain woes are not helping the economic rebound. Their "zero Covid" policy is seriously crippling supply chains, which are already weak. Even though Chinese exports are forecast to remain stagnant into 2023, exports did grow at a surprisingly double-digit pace in May (ahead of forecasts). 
Why wealth management and retirement planning should go together and how Ascendant can help
Wealth management and retirement planning are two sides of the same coin. The goal of wealth management is to maximize your financial situation, while the goal of retirement planning is to create a sustainable income stream. When these two things work together, you have a very powerful tool at your disposal for managing your money.
If you're looking for help with your wealth management and retirement planning, Ascendant Financial Solutions can help! We provide financial services that allow our clients to deal with both areas in one place. There's no need for multiple appointments or contacting different companies—we'll take care of everything!
How does Ascendant help with wealth management and retirement planning? 
In short: we do it all! Our team has the depth and experience to do what needs to be done to set up a strong foundation for each client's future. We'll take care of everything from investment strategy development to tax optimization strategies. Your financial goals will lead every step of the way as we build a diversified portfolio for you, with your trust and level of preferred involvement.
With so many geopolitical tensions around the world, it's important to diversify your portfolio. A diversified portfolio will help you weather all types of market conditions. Start by getting a risk assessment today.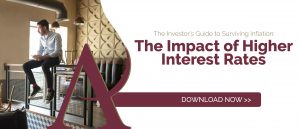 Ascendant Financial Solutions, Inc. is an independent SEC Registered Investment Advisory firm serving clients in the Flagstaff and Phoenix, Arizona areas. With more than thirty years of experience in the financial industry, we partner with families, business owners, and retirees to ascend to greater financial heights on their journey to financial freedom. No matter how complex your financial goals are, our team will rise to the challenge to help you meet your goal. 
*Please Note: Limitations. The scope of any financial planning and consulting services to be provided depends upon the terms of the engagement, and the specific requests and needs of the client. Ascendant does not serve as an accountant, nor does it prepare tax returns. Defer to your tax professionals.  Different types of investments involve varying degrees of risk.  Therefore, it should not be assumed that future performance of any specific investment or investment strategy (including the investments and/or investment strategies recommended and/or undertaken by Ascendant), or any planning or consulting services,  will be profitable, equal any historical performance level(s), or prove successful. A copy of our current written disclosure Brochure discussing our advisory services and fees continues to remain available upon request or at www.ascendant-financial.com.