Despite a raging pandemic and rising unemployment last year, holiday spending showed no signs of slowing down.  According to the National Retail Federation (NRF), holiday shoppers set a new record during the season of giving with nearly $800 billion in sales across retail outlets. Holiday spending has increased every year since 2008, but 2020 shattered the previous year's record by more than $60 billion.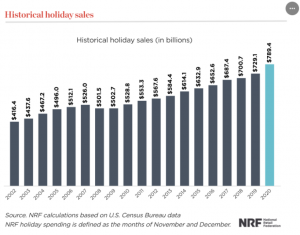 The 2021 holiday season is shaping up to be more of the same, although new headwinds in the form of inflation and supply shortages could hijack your shopping list and budget. Added stress is never a good thing.
The end of the year can be a pressure cooker where people must balance work and home life in addition to getting all their holiday ducks in a row. You can't do much about stress from work and family, but you can reduce your cortisol levels by controlling your holiday spending. Here are a few tips for surviving the holidays with your bank account intact.
Set Limits with a Holiday Budget
46% of families earning $150,000 or more said they were increasing their holiday spending in 2020. Gift buying is a big part of that spending, of course, but there's also the time and money required for decorating, entertaining friends and family, and giving to charity. If you don't plan ahead, you could find yourself spending way more than you anticipated.
A holiday budget is a must if you want to keep your spending in check. Last year, the NRF reported that the average American spent nearly $1000 on gifts, decorations, and other holiday-related purchases.
In order to control your spending this year, you'll need to set spending limits on the different categories that matter to you. Set aside money for gifts, but then include limits for parties, decorations, food, and dining out.
Control Your Gift List
Gift buying is the biggest expense on most holiday budgets and there's a lot of pressure to buy the perfect gift for each person on your list. This is especially true if you have relatives who enjoy buying extravagant presents. You don't need to turn gift buying into a contest though – after all, it's supposed to be the thought that counts, right?
DIY gift ideas from sites like Etsy and Instagram can be great ways to limit your spending while creating a personal touch. Anyone can buy a gift card from Amazon, but unique or handmade gifts can make lasting memories. 
Another method to keep your gift list manageable is organizing a Secret Santa gift exchange. If you have a large family, buying a present for everyone can be an unreasonable ask. A gift exchange prevents anyone from feeling left out while also keeping budgets under control. Set a price limit to balance out gift-giving with all family members.
Think of Holiday Party Alternatives
Dinner parties and cocktail parties can fill up your calendar each year,  but hosting a party is an expensive endeavor. You're not only opening your home to friends and family, but you're also expected to provide some kind of food, alcohol, and entertainment. This burden can be lightened by asking everyone to chip in with a different food item, instead of serving a catered meal. In many cases, your guests will be happy to show off their favorite holiday dishes. Still, in most cases, holiday parties almost always find their way over budget.
The ongoing pandemic creates another challenge to holiday entertaining. Local transmission levels, vaccination status, and individual health risks all need to be taken into consideration.
Instead of hosting a big event, try taking in some Christmas lights on a scenic route with friends and family. Or a walk in the park with some homemade hot chocolate. Everyone's a little financially stressed this time of year and you might be surprised at how popular these no-cost outings might be.
Charitable Giving
Giving to charity is an excellent alternative to gift-giving. It makes you feel good.
The health benefits of charitable giving are clear. Studies show that people who give to charity have lower stress levels, less depression, and lower blood pressure than those who do not give. Charitable giving also improves your self-esteem and your life expectancy.
Financially, charitable giving offers great tax benefits. Recent changes have been made to the tax laws regarding charitable giving. 
According to the IRS, "Usually, taxpayers who take the standard deduction cannot deduct their charitable contributions. The law now permits taxpayers to claim a limited deduction on their 2021 federal income tax returns for cash contributions they made to certain qualifying charitable organizations. These taxpayers, including married individuals filing separate returns, can claim a deduction of up to $300 for cash contributions to qualifying charities during 2021. The maximum deduction is $600 for married individuals filing joint returns."
There are some exceptions to keep in mind, however, these new tax laws will help keep money in your pocket when you donate to charities this year. So try giving to charity, save those receipts, and reduce your stress, while helping make the world a better place.  
Increase Your Savings Rates
One way to motivate yourself to spend less this holiday season is by establishing a plan to save more. If you have a sturdy budget, you can increase your savings rate and pocket the extra money you earn through thriftiness. For example, try to save an extra $250 per week in November and December. Sure, $2,000 total in savings isn't exactly a nest egg, but setting up an automatic transfer to savings means you'll have less to spend out at the stores. Ask your advisor for assistance if you aren't sure how much you can afford to save each week and still manage all your obligations.
Set Aside Time for Fun
Controlling your holiday spending doesn't mean morphing into Ebenezer Scrooge. The holidays are a time for family, friends, and fun, so don't forget to include leisure in your holiday budget. Meet up with some old friends, take the kids to see Santa, and gather around a fireplace with some loved ones. You don't need to break the bank on fancy outings and extravagant parties to have fun, but be sure to treat yourself as well as others this year. Self-care is crucial for reducing stress, so don't become a holiday hermit just because you're trying to budget.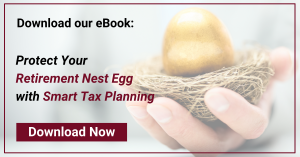 Ascendant Financial Solutions, Inc. is an independent SEC Registered Investment Advisory firm serving clients in the Flagstaff and Phoenix, Arizona areas. With more than thirty years of experience in the financial industry, we partner with families, business owners, and retirees to ascend to greater financial heights on their journey to financial freedom. No matter how complex your financial goals are, our team will rise to the challenge to help you meet your goal.