Ascendant Financial Solutions is thrilled to announce the launch of our new and improved website! Our new site went live on October 13, 2021.  Our goal is to provide you with a clear understanding of how we can help you successfully make prudent decisions concerning your financial future. 
Our website is here to guide you through our services, philosophy, and strategies. We also wanted to share our educational content. Educating and providing information and resources is at the core of our philosophy.  We hope you find the abundance of information here helpful and that it will keep you well informed on your journey towards financial freedom.
We want you to have continued access to the latest insight from Ascendant Financial Solutions, and make it easy for you to contact us when you have a question.
As one of the few locally owned, independent, fiduciary financial advisory firms in Flagstaff, Phoenix, and Mesa, we want you to know that we are here to serve!
If you haven't had a chance to check it out yet, please do.
Here are 4 things Ascendant Financial Solutions is excited to offer you:
1. Free resources to read
We will be posting fresh blog content monthly. These informative blog articles will highlight industry trends and up-to-date ways to create the best financial plan for you to invest wisely. Also, be sure to download our eBook!
2. Our Second Opinion Service
With today's volatile stock market and changing tax laws, many people would like to have a second opinion to make sure that they're on track to reaching their financial goals.
3. Access
We've made it easy to schedule an appointment with us directly from our site. Let's make some time to talk about what is on your mind.
4. Our Holistic Approach to Wealth Management
We are a Fiduciary, which means we put your best interests first. At Ascendant Financial Solutions we support you with personalized portfolio solutions to help you achieve your investment goals and obtain financial peace of mind. As a firm and as individual advisors, we embrace and understand the faith that our clients place in our services and believe that client service, investment solutions, comprehensive planning, and communication are priority number one and key to our client's success.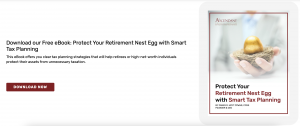 The topics discussed in this article are for financial education and are not intended to provide specific investment advice or recommendations. The information does not represent, warrant or imply that services, strategies or methods of analysis offered can or will predict future results, identify market tops or bottoms or insulate investors from losses.
Investing and investment strategies involve risk including the potential loss of principal.  Investment decisions should be based on your own goals, time horizon and risk tolerance. The return and principal value of an investment will fluctuate as market conditions change.
Asset allocation & diversification do not ensure a profit or prevent a loss in a declining market. They are methods used to help manage investment risk. Past performance is not a guarantee of future results.
Ascendant Financial Solutions, Inc. and Gĕneos Wealth Management, Inc. do not provide tax or legal services. Individuals should seek advice from their own tax or legal counsel regarding their specific financial situation before acting on any information provided.
Securities offered through Gĕneos Wealth Management, Inc.  Member FINRA/SIPC.  Advisory services offered through Ascendant Financial Solutions and Gĕneos Wealth Management Inc.